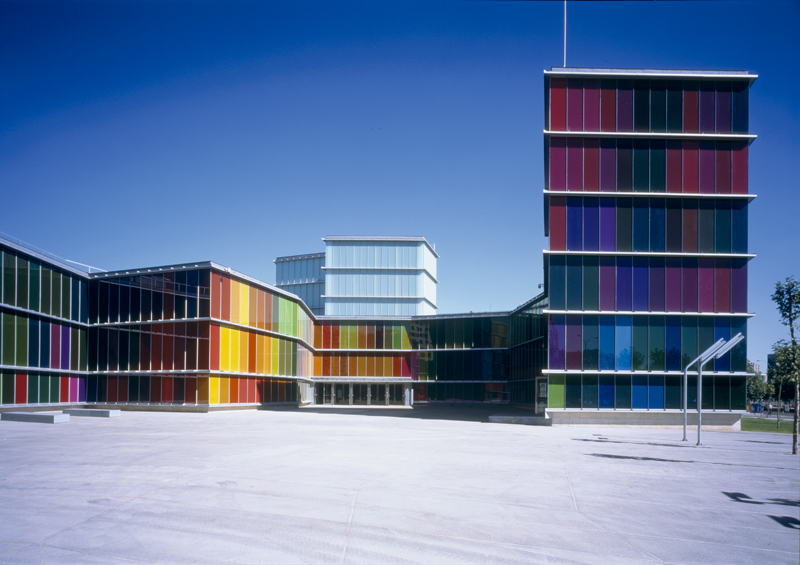 From 21.05.2010 to 31.10.2010
National Glypthotheque
On the occasion of the Spanish Presidency of the EU, SEACEX (www.seacex.es) and the National Gallery-Alexandros Soutsos Museum have organized at the National Glyptotheque of Athens (Army Park, Goudi) the exhibition A City Called Spain. Contemporary Spanish Architecture, curated and designed by Manuel Blanco, Professor of Architecture at the Technical University of Madrid.
The exhibition depicts the landscape of contemporary Spanish architecture in the first decade of the 21st century through 80 projects by 70 studios and over 100 architects, which evidence the richness and urban diversity of our country and the quality of its recent architectural production.
The exhibition is a multiform installation of models, photographs, drawings and videos presented on a crystal map corresponding to the geographical plan of Spain. The buildings' position on this huge map matches their actual location in Spain. Thus, visitors can walk around corridors that recreate the Spanish architectural landscape as if it were a real city including all kinds of buildings: dwellings, museums, harbours, universities, stadiums, banks, gyms, parks, offices, etc.
The exhibits are buildings that have already become icons of our time and architectural projects of famous as well as promising new architects.
Spain is presented as a multiple city, both big and small, with coast and inland cities, mixed, created by an accumulation of different ways of thinking and living, where the most classical works of contemporary architecture are combined with the latest trends.
Organized by
State Corporation for Spanish Cultural Action Abroad (SEACEX)
National Gallery-Alexandros Soutsos Museum
With the collaboration of
Spanish Embassy in Athens
Sponsored by
AEGEAN AIRLINES
Curator and Design
Manuel Blanco, Professor at the Superior Technical School of Architecture, Universidad Politécnica de Madrid UPM
SEACEX Coordination
Laura Jack
National Gallery-Alexandros Soutsos Museum Coordination
Artemis Zervou
Works in the exhibition:
Number of models:73
Number of architects: Over 100
Represented studios: 70
Images available in:
www.seacex.es – Press Room
List of exhibited projects:
ÁBALOS SENTKIEWICZ ARQUITECTOS
Iñaki Ábalos / Renata Sentkiewicz
Estación Intermodal, parque urbano y cinco torres
Logroño
ADD+ARQUITECTURA
Manuel Bailo / Rosa Rull
Ampliación Ayuntamiento de Manresa
Manresa (Barcelona)
AMID CERO9
Cristina Díaz Moreno / Efren García Grinda
Palacio del Cerezo en Flor
Valle del Jerte (Cáceres)
ANDRÉS JAQUE ARQUITECTOS
Andrés Jaque
Casa en Never Never Land
Ibiza
ANDRÉS PEREA
Ampliación II de los recintos feriales de Madrid (IFEMA) Pabellones 12 y 14 y aparcamiento Sureste
Madrid
ANTONI BARCELÓ, LUIS ALEGRE Y ESTANISLAU ROCA
Corredor Verde del Frente Marítimo de Palma
Palma de Mallorca
ANTONIO JIMÉNEZ TORRECILLAS
Muralla Nazarí. Alto Albaicín
Granada
ARTURO FRANCO
Intermediae-Matadero
Madrid
BATLLE I ROIG
Joan Roig / Enric Batlle
Parque Atlántico en la Vaguada de las Llamas
Santander
BB+GG
Beth Galí
Plan de Reforma Interior del Sector del Campus Audiovisual
Barcelona
BLANCA LLEÓ
Plaza en Toledo
Toledo
CARME PINÓS
Urbanización de la Plaza de La Gardunya, Escuela de artes y oficios La Massana, Edificio de viviendas La Gardunya y Remodelación de la fachada posterior del Mercat de La Boquería
Barcelona
CAMPO BAEZA
Alberto Campo Baeza
Caja Granada / Museo de la Memoria / Sede Consejo Consultivo / Entre Catedrales
Granada / Zamora / Cádiz
CARNICERO+VILA+VIRSEDA
Iñaki Carnicero / Ignacio Vila / Alejandro Virseda
Rehabilitación de la nave 16 del antiguo Matadero de Madrid para la creación de un nuevo espacio de exposiciones
Madrid
CÉSAR PORTELA
Cementerio Marino
Fisterra (A Coruña)
CLOUD 9
Enric Ruiz Geli
MediaTic
Barcelona
DOSMÁSUNO ARQUITECTOS
Lina Toro / Ignacio Borrego / Nestor Montenegro
102 Viviendas en Carabanchel / Biblioteca Central de la Universidad de Alcalá / 67 VPP Colmenar Viejo
Madrid
ECOSISTEMA URBANO
Belinda Tato / José Luis Vallejo / Diego García Setién
Ecobulevar de Vallecas
Madrid
ELIA GUTIERREZ MOZO / MERCEDES MIRANDA BLEDA / EVA ÁLVAREZ ISIDRO
Albacete Plural
Albacete
ELAP ARQUITECTOS INGENIEROS SLP
Eva Luque / Alejandro Pascual
Guardería de 8 Unidades
Vélez-Rubio (Almería)
EMBT
Benedetta Tagliabue
Campus Universitario de Vigo
Vigo
ESTUDIO AMMEBA
Ángeles Mira/Pablo Berzal/David Pastor/Thanos Touris
ARCO 06
Madrid
ENSAMBLE ESTUDIO
Antón García Abril
Sede de la SGAE en Santiago de Compostela
Santiago de Compostela
ESTUDIO BAROZZI VEIGA
Fabrizio Barozzi / Alberto Veiga
Auditorio y Centro de Congresos
Águilas (Murcia)
ESTUDIO JESÚS APARICIO
Jesús Aparicio
Casa del Horizonte
Salamanca
ESTUDIO PICADO DE BLAS
Rubén Picado / Mª José de Blas
Escuela Infantil de 0 a 3 años
Arganda del Rey (Madrid)
ESTUDIO RAÚL DEL VALLE / MÁQUINAS PARA VIVIR S.L.
Raúl del Valle
Sala de Usos Múltiples en el C.E.I.P Camilo José Cela de Madrid
Madrid
FOA
Alejandro Zaera / Farshid Moussavi
Centro Tecnológico de La Rioja Vivienda Social en Carabanchel
Logroño / Madrid
GUALLART ARQUITECTOS
Vicente Guallart
Microcostas Vinarós / Pabellón Vinarós / Paseo Vinarós
Vinarós (Castellón)
HÉCTOR FERNÁNDEZ ELORZA
Laboratorios Químicos en la Universidad de Alcalá
Alcalá de Henares (Madrid)
HERREROS ARQUITECTOS
Juan Herreros
ARCO 08-09 / Edificio corporativo
Madrid
IN HOC SIGNO VINCES
Santiago Calatrava
Aeropuerto de Sondica /Ágora
Bilbao / Valencia
IRISARRI+PIÑERA
Jesús Irisarri / Guadalupe Piñera
COAG / Ordenación de muelles, departamentos para marineros, cafetería e instalaciones deportivas en Beluso
Vigo / Pontevedra
IZASKUN CHINCHILLA ARCHITECTS
Izaskun Chinchilla
Parque de los Cuentos en el antiguo convento de la Trinidad
Málaga
JAVIER GARCÍA SOLERA
Centro de Día y Viviendas Tuteladas en San Vicente del Raspeig
San Vicente del Raspeig (Alicante)
JOSÉ Mª SÁNCHEZ GARCÍA
Centro de Tecnificación de Actividades Físico-Deportivas
Cáceres
JOSEP LLINÁS
Instituto Microcirugía Ocular (IMO)
Barcelona
JUAN CARLOS ARNUNCIO / CLARA AIZPÚN / JAVIER BANCO
Museo de Arte Contemporáneo Español Patio Herreriano
Valladolid
JUAN NAVARRO BALDEWEG
Equipamientos Culturales del Solar de Caballería. Centro nacional de investigación sobre la evolución humana
Burgos
JUSTO GARCÍA
Justo García Rubio
Estación de Autobuses Sub-comarcal del Casar de Cáceres
Casar de Cáceres (Cáceres)
LÓPEZ RIVERA
Emiliano López / Mónica Rivera
Hotel Aire de Bárdenas
Tudela (Navarra)
LUIS ÚRCULO
Antes/Ahora/Después
X BEAU
Santander
MANGADO
Patxi Mangado
Pabellón de España para la Exposición Internacional Zaragoza 08
Zaragoza
MANSILLA+TUÑÓN
Luis Mansilla / Emilio Tuñón / Matilde Peralta (CICCM)
Auditorio de León / MUSAC de León / Centro Internacional de Convenciones de la ciudad de Madrid (CICCM)
León / Madrid
MANUEL OCAÑA ARQUITECTOS
Manuel Ocaña
Centro Geriátrico Santa Rita
Ciutadella (Menorca)
MAP ARCHITECTS
Josep Lluis Mateo
Filmoteca de Catalunya
Barcelona
MARTINEZ LAPEÑA-TORRES ARQ.
Elías Torres / José Antonio Martínez Lapeña
Escaleras de La Granja / Baluard del Princep
Toledo / Palma de Mallorca
MENIS ARQUITECTOS
Fernando Menis
Auditorio y Palacio de Congresos de Morro de Jable
Pájara (Fuerteventura)
MGM
José Morales / Sara de Giles / Juan G. Mariscal
Edificio de Aulario de 24 unidades. Universidad Pablo de Olavide / 140 Viviendas Sociales en el Monte Hacho
Sevilla / Ceuta
MIQUEL NAVARRO
Escultura Urbana
Murcia
MONEO BROCK STUDIO MBS
Belén Moneo / Jeff Brock
Termas de Tiberio / Recinto Ferial de Cuenca
Balneario de Panticosa (Pirineo Aragonés) / Cuenca
NIETO SOBEJANO
Fuensanta Nieto / Enrique Sobejano
Museo y Sede Institucional Medinat Al Zahra
Córdoba
NO MAD
Eduardo Arroyo
Vivienda Unifamiliar Zafra Uceda
Aranjuez (Madrid)
NRED ARQUITECTOS
Magüi González / Jose Antonio Sosa / Miguel Santiago
Ciudad Judicial de Las Palmas
Gran Canaria
OAB ARCHITECTS
Carlos Ferrater
Edificio Mediapro
Barcelona
ORIOL BOHIGAS
Video "El modelo Barcelona"
PALERM & TABARES DE NAVA
Juan Manuel Palerm / Leopoldo Tabares de Nava
Barranco de Santos
Sta. Cruz de Tenerife
PAREDES PEDROSA ARQUITECTOS
Ángela García de Paredes / Ignacio García Pedrosa
Museo de Almería
Almería
PO2
Marcos Parga / Idoia Otegui
Parque eólico de Neda. Subestación y edificio de control.
Neda (A Coruña)
RAFAEL MONEO
Parroquia de Riberas de Loiola / Kursaal
San Sebastián
RCR
Ramón Villalta / Rafael Aranda / Carme Pigem
Nuevo complejo de la Estación de Sants
Barcelona
RECETAS URBANAS
Santiago Cirugeda
Camiones, Contenederos, Colectivos / Prototipo de Arquitectura Móvil para Actividades Colectivas
Varios / Parque del Rodeo (Cáceres)
SALVADOR PÉREZ ARROYO
Florida Arena
Oviedo
SELGASCANO
José Selgas / Lucía Cano
Palacio de Congresos y Auditorio
Plasencia (Cáceres)
S-M.A.O
Juan Carlos Sancho / Sol Madridejos
Círculo de las Artes y la Tecnología (CAT) Centro para Emprendedores
Segovia
TOMÁS CARRANZA / FRANCISCO JAVIER MONTERO
Edificio de Viviendas
Cádiz
VÁZQUEZ CONSUEGRA
Guillermo Vázquez Consuegra
Caixa Forum Sevilla
Sevilla
VICENS&RAMOS
Ignacio Vicens / José Antonio Ramos
Centro Parroquial en Rivas-Vaciamadrid
Rivas-Vaciamadrid (Madrid)