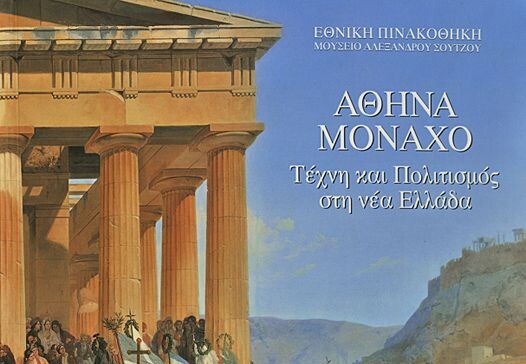 From 05.04.2000 to 03.07.2000
National Gallery - Central Building
The London Treaty signed on April 25, 1832, by the representatives of the Great Powers, appointed the young Otto, the second-born son of the King Ludwig I of Bavaria, as King of Greece. Ludwig was an ardent philhellene and lover of the Greek antiquity. It is to his vision that Munich owes its neoclassical style.
Otto's election and Ludwig's managerial supervision were instrumental in shaping ideology and character in Modern Greece. The love of Antiquity also accounted for the choice of Athens as the new capital city of the kingdom and contributed to its neoclassical profile. The Bavarian architects who designed the new Athens found here the measure, rhythm, proportion that the heavy neoclassical buildings in Munich lacked. They were guided by the glorious examples now directly available to them. The care for antiquities, the interest in organizing education, the establishment of the University and the School of Fine Arts, in the earliest years of Otto's reign, all reveal that there was an agenda in place for the intellectual renaissance of the newly-established Greece.
The exhibition "Athens-Munich" aspired to illustrate all aspects of the long and important relationship between the two cities. Distance in time and a sober view enables us today to assess the contribution of this productive dialogue to shaping the intellectual and artistic profile of Modern Greece.
The second section of the exhibition was dedicated to the Greek artists of the Munich School and their German teachers.
The exhibition "Athens-Munich" was jointly organized by the National Gallery of Greece, the European Cultural Centre of Delphi and the National Museum of Bavaria, where a different version of this exhibition was held under the title: "The new Greece – Greeks and Bavarians during the reign of Ludwig I".
Exhibition Curator: Dr. Marilena Cassimatis, Curator, National Gallery of Greece
Sponsor: National Bank of Greece Group