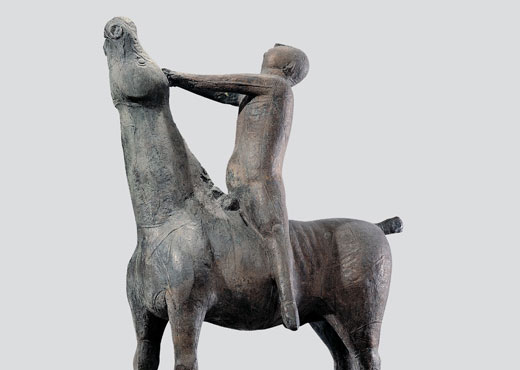 TEMPORARY EXHIBITION IN INTERACTIVE TOUR
From 27.06.2006 to 30.10.2006
National Glypthotheque
AN ARCHAIC SCULPTOR OF MODERN ART
The exhibition of Marino Marini, the most important exponent of modern Italian sculpture and one of the greatest 20th-century sculptors, was inaugurated at the National Glyptotheque parallel to the opening of the Greek sculpture permanent display.
Marini studied painting, printmaking and sculpture in Florence. He went for long stays to Paris, where he met the leaders of modern art (Picasso, Braque, de Chirico, Kandinsky, Maillol, Laurens, Lipchitz, González). In 1940, he was appointed professor at the Brera Academy in Milan. He soon became well established as an artist, participating in international art exhibitions and receiving awards. He became member of the Florence Academy of Fine Arts. Several major art historians around the world have devoted monographs to Marino Marini. The artist was influenced by the ideological milieu of the interwar period, which was characterized by a shift towards tradition. He drew inspiration from the pre-classical Greek art of the austere style, Etruscan sculpture, Gothic art and the early Italian Renaissance. Like all true classicists, Marino Marini focused on a limited number of themes, mainly Man, Horse, Horseman, in the tradition of ancient artists.
In 1935, he visited Greece. Almost immediately, two recurring themes appeared in his sculpture: The Pomonas, which took their name from the Etruscan and Roman goddess of fertility, and his second key motif, Horsemen, which helped to establish his international reputation. This traditional theme of a heroic and epic character took on a new poignancy with Marini. After 1952, in his Miracles, Marini depicted horses falling, but redeemed the horseman, who resists his fate.
Marino Marini is one of the most internationally renowned sculptors. His works are exhibited in the greatest museums of the world, and three museums in Italy are dedicated to his work.
Curators:
Giuliano Serafini, Art historian and critic and Artemis Zervou, Curator at the National Gallery of Greece
Communication sponsor:
ERT