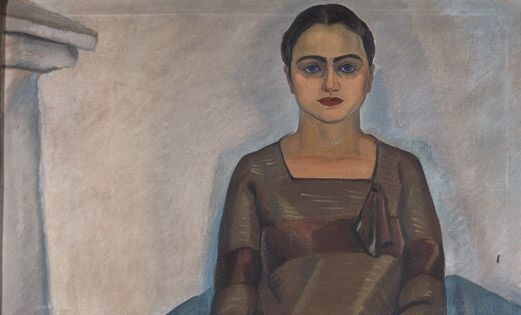 From 07.08.2010 to 03.10.2010
Regional museums and cultural centers
Crete, Viannos Art Gallery, Keratokambos, 07/08/2010 – 03/10/2010
The National Gallery – Alexandros Soutsos Museum has in the last 18 years acquired some 3,000 works through endowments, donations and purchases. These include the large donations of works by painters Tetsis, Nikolaou, Mytaras, Fassianos, Daniel, and individual donations by many other artists. Also included are characteristic works from four major donations of sculptural works by Ioannis Avramidis, Frosso Efthymiadi-Menegaki, Bella Raftopoulou and Christos Kapralos. Two major exhibitions of New Acquisitions, featuring different works, were organized at the National Gallery in 2006 and 2007, and a small exhibition was held at the Nafplio Annex. These exhibitions traced the evolution of Greek art from the 19th to the 21st centuries, alongside contemporary art, and included paintings, installations, constructions, sculptures and reliefs.
Under the decentralization policy of strengthening local initiatives for the promotion of Greek art, and following the exhibitions at Pyrgos (2007), Patras (2008) and Sifnos (2009, 2010), the National Gallery organised in collaboration with the Municipality of Viannos and the Viannos Gallery at Keratokambos, Crete, the 8th New Acquisitions exhibition, entitled National Gallery New Acquisitions, 1992-2010, A Century of Modern Greek Art. The exhibition in Crete featured 55 works, mostly of figurative but also of abstract art. A representative sampling of landmarks as well as lesser-known works of 20th-century and contemporary Greek art until today was attempted through the selection of works on display from this large collection.
The first section featured early 20th-century works, characteristic examples by important painters, including Pavlos Mathiopoulos (1876-1956), Apostolos Geralis (1886-1983), Umvertos Arghyros (1884-1963) and Thaleia Flora-Karavia (1871-1960), alongside works by Giorgos Bouzianis (1885-1959) and artists of the Generation of 1930, such as Polykleitos Rengos (1903-1984), Spyros Vassileiou (1902-1985), Nikos Nikolaou (1909-1986) and the youngest member of this generation, Giorgos Sikeliotis (1917-1984). The second section comprised a large part of the exhibition, with important works by leading artists. Various versions of figurative art are represented in this section, which encompasses a great range of aesthetic and conceptual approaches. The artists presented in this section are: George Mavroides (1912-2003), Daniel (Panagopoulos) (1924-2008), Savvas Charatsidis (1925-1994), Giorgos Kouzounis (1922-1998), Panaghiotis Tetsis (1925), Paris Prekas (1926-1999), Tonia Nikolaidou (1927), Nikos Kessanlis (1930-2004), Alekos Fassianos (1935), Dimitris Mytaras (1934), Sarantis Karavouzis (1938), Dimosthenis Skoulakis (1939), Chronis Botsoglou (1941), Nikos Houliaras (1940), Stavros Ioannou (1945-2009), Tasos Christakis (1947). A third section samples various manifestations of abstraction and new trends by older artists and artists of the generations of 1960 to 1980, mostly paintings. The artists featured are: Giorgos Vakalo (1902-1991), Yannis Maltezos (1915-1987), Daniel (1924-2008), Dimosthenis Kokkinidis (1929) and, of the younger artists, Angelos Skourtis (1949). In the last, fourth section, art by younger artists, born in the 1950s and 1960s, is on display. Several important artists from this younger generation make their aesthetic propositions with their notable works. Participating artists are: Yannis Kottis (1949), Michalis Manoussakis (1953), Xenis Sachinis (1954), Marios Spiliopoulos (1957), Manolis Zacharioudakis (1958) Chryssa Vergi (1959), Kalliopi Assargiotaki (1959), Anni Zavitsanou (1959), Michalis Madenis (1960), Maria Papafili (1961), Marilitsa Vlachaki (1961), Christos Pallatzas (1962), Giorgos Rorris (1963), Xenofon Bitsikas (1963), Maria Filopoulou (1964).
The exhibition is rounded off by three important sculptures, notable examples of the style of the style of the artists that made them: Fairy, from 1960, and Supplicants, of 1955, by Frosso Efthymiadi-Menegaki (1911-1995) and Marsa Matruh, from 1971, by Christos Kapralos (1909-1993).
Exhibition Curator: Dr Lina Tsikouta, Curator, National Gallery