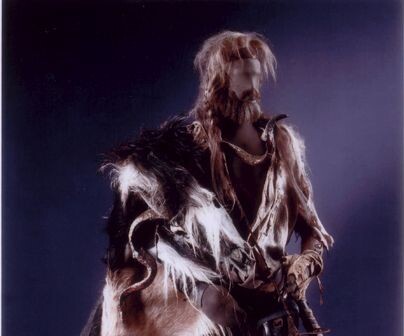 From 11.03.2003 to 21.07.2003
National Gallery - Central Building
Theatre costumes for the Greek National Theatre, worn and animated by legendary Greek actors: Kyveli, Kotopouli, Paxinou, Papadaki, Aroni, Lambeti, Karezi, Veakis, Glinos, Zervos, Nezer, Minotis, Kotsopoulos, Horn, to cite but a few of those who are no longer with us. Costumes designed by inspired artists: Fokas, Klonis, Vakalo, Ghika, Tsarouchis, Moralis, to mention only the most senior ones.
The exhibition "Theatre Costume" featured some of the most characteristic costumes preserved in the National Theatre wardrobe.
This exhibition was proposed by the late Artistic Director or the Greek National Theatre, Nikos Kourkoulos. Together with the monumental catalogue (100 Years of National Theatre, Latsis Group Editions), they represent a valuable contribution to the history of Greek theatre.
The exhibition was jointly organized by the National Theatre and the National Gallery of Greece as part of the Cultural Olympiad.
Exhibition Curators: Rena Georgiadou, Giannis Metzikof, Set designers
Efi Agathonikou, Curator, National Gallery of Greece
Sponsor: CULTURAL OLYMPIAD