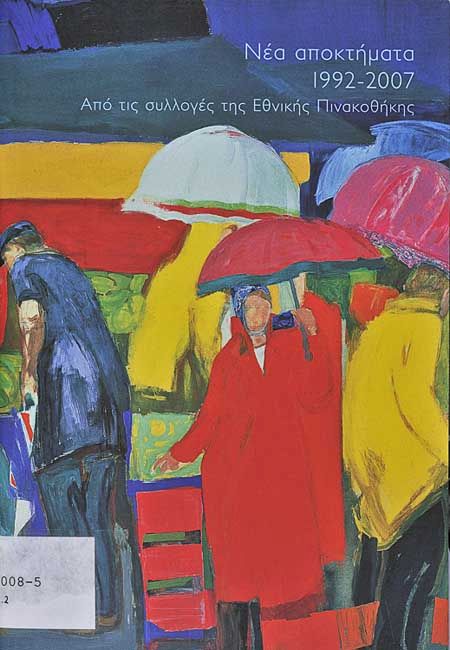 From 09.08.2007 to 19.11.2007
National Gallery - Central Building
The National Gallery – Alexandros Soutsos Museum has acquired more than 2,300 artworks in the last 15 years through endowments, donations and purchases. These include the major donations of works by the painters Tetsis, Nikolaou, Mytaras, Fassianos, Daniel and donations of individual works by Pavlos, Dekoulakos, Botsoglou, Skoulakis, Christakis, Skourtis, Bokoros, Rorris and others, as well as works by Velickovic and Botero. Several new acquisitions are on display as part of the permanent collections, including the two masterpieces by El Greco and works by Volanakis, Iakovidis, Parthenis, Lytras, alongside the older major donations by Moralis and Ghika. The exhibition provides an opportunity to see characteristic works from four major donations of sculptures by Ioannis Avramidis, Frosso Efthymiadi-Menegaki, Bella Raftopoulou and Christos Kapralos. Many newly acquired sculptures and other donations are in the permanent collections of the National Glyptotheque.
The exhibition New Acquisitions, 1992-2007. Purchases – Donations – Endowments, featuring characteristic works by important artists, traces the development of 19th- and 20th-century Greek art.
The exhibition features three displays, comprising some 150 works. In the main marble hall are hosted works by contemporary artists, mainly tracing abstraction and recent developments through paintings, installations, constructions, sculptures and reliefs. On display are works by Vakalo, Maltezos, Pavlos, Tsingos, Mytaras, Logothetis, Katzourakis, Bouteas, Molfessis, Perdikidis, Dekoulakou, Skourtis, four works by Nikolaou and an extensive retrospective tribute to Daniel, featuring 35 works from the recent large donation of his works.
Works dating from the 19th and early 20th century are on display in the mezzanine, including characteristic works by Gyzis, Lytras, Iakovidis, Mathiopoulos, Xydias, Geralis, Pantazis, Laskaridis, as well as Galanis, Kontoglou, Parthenis, Rengos, Flora-Karavia, Santorinaiou, Sikeliotis, Mavroides.
The lower-level wood-panelled room hosts various versions of figurative painting by artists of different generations, such as Botsoglou, Kokkinidis, Tetsis, Christakis, Mytaras, Fassianos, Theocharakis, Skoulakis, and Rorris, Spiliopoulos, Filopoulou, Vergi, Bitsikas, Madenis, Sachinis, Stefanakis, Zacharioudakis.
Exhbition Curator: Lina Tsikouta, Curator, National Gallery