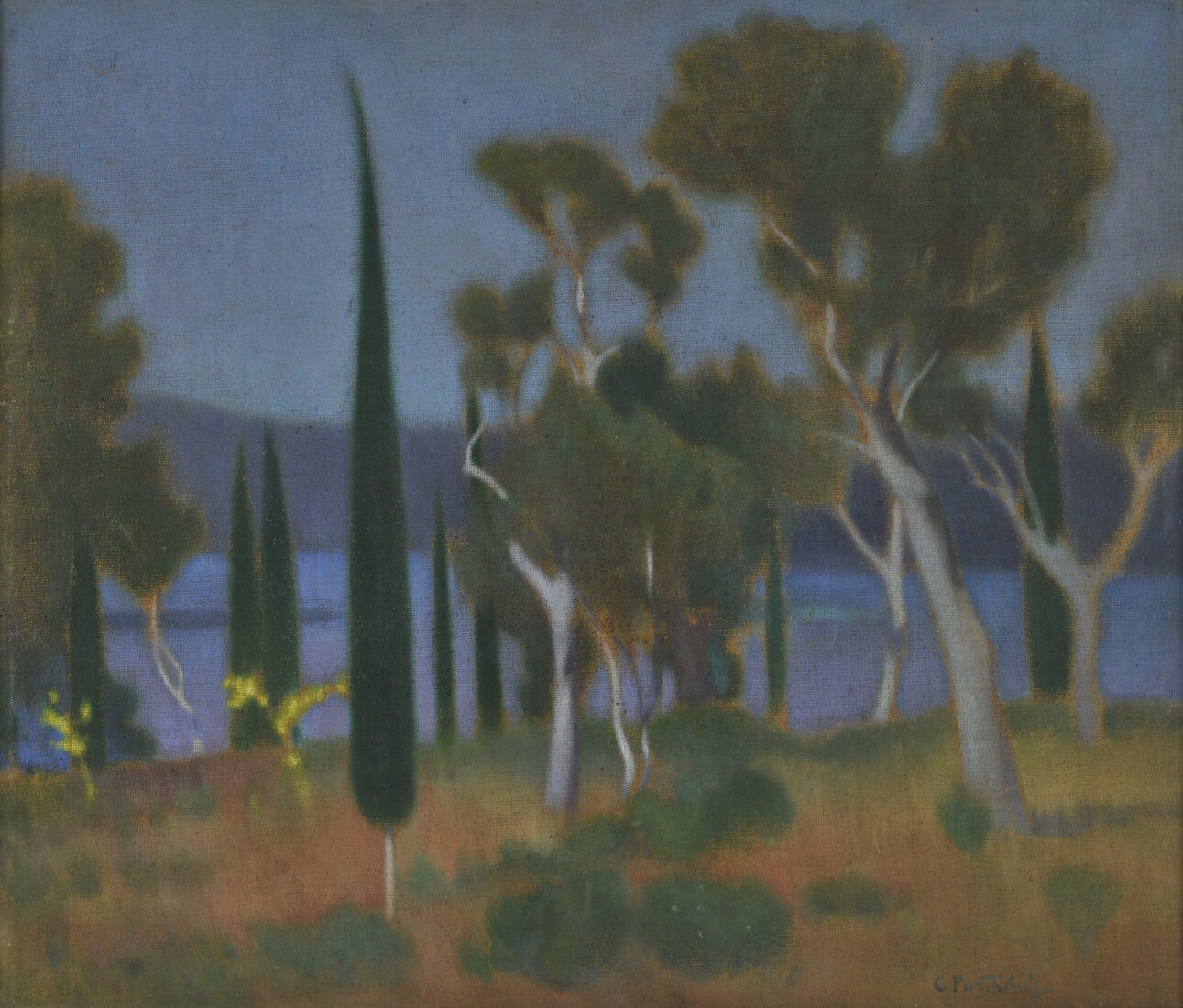 From 05.07.2022 to 28.02.2023
2013 – today
The National Gallery presents the exhibition "Konstantinos Parthenis (1878–1967) – Painting an Ideal Greece", the first comprehensive retrospective exhibition dedicated to the oeuvre of one of the most outstanding figures of modern Greek painting. The exhibition showcases the artist's multifaceted, uplifting and deeply Greek creative output in a gesture of powerful symbolism, being the first retrospective dedicated to a Greek artist in the new National Gallery, following on the first, monumental temporary exhibition "The Art of Portraiture in the Louvre Collections".
Konstantinos Parthenis's life and career spans from the late 19th century until the late 1960s, when he lived and worked in his home studio at the foot of the Acropolis. Alexandria, Vienna, Paris, Corfu and Athens are landmark cities in a career that is yet to be comprehensively documented and definitively assessed in art history. In his painting, Parthenis developed a creative dialogue with the modernist movement while maintaining his own distinct style, where iconographic references to antique and Byzantine art expand his extraordinary painting vocabulary, which evolved steadily throughout his life in a wide range of works.
He pioneered a groundbreaking approach to modernism and justified his belief that the artist deserves recognition and support from the state.
With his appointment as professor to the Athens School of Fine Arts, he changed the way art was taught and introduced a new ethics in fine art education. His close friendship with intellectuals and politicians, as well as his views on the political turbulence of Greek history in the interwar period, left a strong mark on his career and work.
The tensions his presence generated in his colleagues and his courageous withdrawal to his home studio in the last 30 years of his life gave rise to a mystery surrounding his often esoteric painting.
Most of Konstantinos Parthenis's paintings, drawings and documents are in the National Gallery collections. Their provenance is mainly by bequest from the artist's two children. For the first time in this retrospective, selected exhibits from the museum's collections are complemented by major works from private and public collections, which trace with sobriety, clarity and simplicity the evolution of his painting.
A PROTEAN ARTIST
Parthenis's creative output is characterised by protean transformation. Only Picasso (1881–1973), who was of the same age with Parthenis, can be compared with him in this respect. Moreover, the Greek artist shares with his Spanish peer another rare privilege: both artists manage to maintain a stylistic constancy, an unmistakable genetic code, an instantly recognisable style that permeates and unifies their wide-ranging creative endeavours. What gives Parthenis's work its unique individuality is the way he treats the creative act as a purely intellectual affair, as a cosa mentale, to quote Leonardo da Vinci (1459–1519). Its destination is pure poetry but the path leading to that peak is research, expertise, wisdom: "Yet art must also possess science… And anyone can be taught science. Art is essentially individual, personal."
After his return from Paris, with his impressions of the bold colours of Les Fauves and Les Nabis still vivid, Parthenis painted a few delightful landscapes from life, mainly on Corfu but also elsewhere in Greece, without any symbolist connotations. It was only during that period that the painter joined his peers of Techni art group, who in the first two decades of the 19th century produced pure plein-air works as part of a quest for a Greek modernism. Strong stylisation would prevail in his work soon after, while a poetic wind transformed his landscapes into transcendental, Elysian visions. Paradoxical as it may seem, this stylisation reveals a latent quality of the Attic light which results in a sharp delineation of volumes and incisive forms, giving primacy to line over colour. It is this quality of his teacher's painting that the insightful Tsarouchis would call "Atticism."
The 1920s would see Parthenis gradually retreat from society and immerse himself in the visionary world of his mature painting, populated by allegorical and symbolic images. Curvilinear, wavy, dancing, his human figures are harmoniously integrated into their setting and resonate with the surrounding compositional elements – trees, mountains, hills. Memories of the European symbolists, both older and younger ones (Puvis de Chavannes, Maurice Denis, Ferdinand Hodler), but also influences from Byzantine art or El Greco, well-assimilated and subordinated to the painter's personal idiom, can be traced in his works of that period (The Benefits of Transportation, 1920–1925). Colour, which retains its freshness in the large-scale allegorical and decorative compositions of the 1920s, would give way to more cerebral forms, reminiscent of the analytical phase of Cubism. It is no coincidence that this shift is observed in the post-Cubist still life paintings that came in parallel with the neoclassical still life paintings by Cubist pioneers – Picasso, Braque, Gris – which were produced during the same period in Paris. These colours, which Tsarouchis would describe as Polygnotan, are none other than the Byzantine colours introduced with true nationalistic zeal by Kontoglou in his paintings of the same period, influencing several artists of the Generation of the Thirties.
Parthenis's writing becomes increasingly geometric; curvilinear and straight lines alternate, often drawn using a ruler and compass, while the painting material becomes lighter, a spiritual essence. The naked canvas is transformed into a screen onto which are projected the transcendental images of his great visionary compositions, on which the artist focused almost exclusively in the 1930s. To utilise the rough texture and off-white colour of the back of the canvas, he did not hesitate to incorporate it into his most ambitious compositions, such as the monumental Apotheosis of Athanasios Diakos (1933). The supernatural events in these works can be described as theophanies, manifested by means of a technique that makes them look as if not made by human hand. Pigments lose their material substance, becoming a pure spiritual projection. The figures seem suspended, floating in a transcendental space where time has been abolished as in Byzantine art and where the relics of the visible world have been reduced to Platonic archetypes. One could say that Parthenis's mature works strive towards an ideal, sacred archetype not made by hands, reminiscent of the Veil of Veronica.
The catalyst in the crucible of the Alexandrian artist's unique eclecticism at the core of his style is an ideal celestial homeland of myth, history and art envisioned by an educated Greek of the diaspora from a privileged vantage point. This was precisely how Cavafy, too, envisioned and injected into his poetry the history and myth of a cherished, ideal and timeless Greece, charged with longing, from a distance. For, in reality, Parthenis remained forever self-exiled and unattached – a citizen of his own, utopian Greece.
Marina Lambraki Plaka

Translated by Dimitris Saltabassis
Curatorship:
Zina Kaloudi, Curator of the National Gallery
Sponsors:
ALPHA BANK & Dimitris Maris