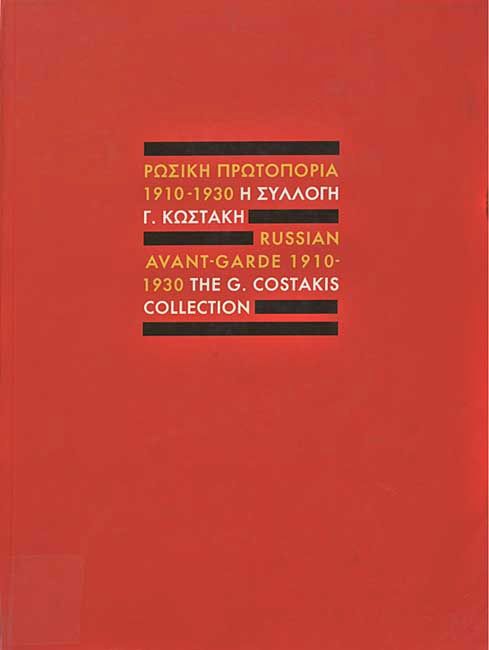 From 06.12.1995 to 08.04.1996
National Gallery - Central Building
The Russian avant-garde developed in the historical context and ideological milieu which paved the way for the Russian Revolution.
Rayonism and Cubism-Futurism became the dominant movements in the Russian art scene in the early years after 1910. Later on, around 1915, two great movements, Suprematism and Constructivism, prevailed, alongside other Abstract movements.
The Russian avant-garde today enjoys a prominent position in the history of 20th-century art. The Kostakis Collection, and the collector himself, played a decisive role in promoting and historically establishing the Russian avant-garde. The Kostakis Collection has been on display in leading international museums to international critical acclaim.
Georgios Kostakis (1913-1990) was born in Russia to wealthy parents. He kept his Greek nationality. Enjoying the benefit of a salary in hard currency as an employee at the Canadian Embassy, Kostakis began to collect Russian avant-garde artworks in 1946. The Kostakis Collection soon became unique in both size and importance.
When Kostakis finally decided to leave Moscow with his family, in 1977, he left the largest part of his collection to the State Tretyakov Gallery. The most characteristic works from his donation came from Moscow to join the ones Kostakis had taken with him. Greece took a long time to honour this great Greek collector. Maybe this is why it paid off its debt with an imposing exhibition, far surpassing in scale and importance all previous exhibitions of the collection throughout the world.
Comprising 568 exhibits (paintings, sculptures, drawings, constructions, applied arts), this exhibition was jointly organized by the National Gallery of Greece and the European Cultural Centre of Delphi.
Exhibition Curator: Dr. Anna Kafetsi, Curator at the National Gallery of Greece
Sponsors: Hellenic Ministry of Culture, Ioniki Bank, Hellenic Tourism Organisation, National Mortgage Bank of Greece, EUROBANK, STANDESIT