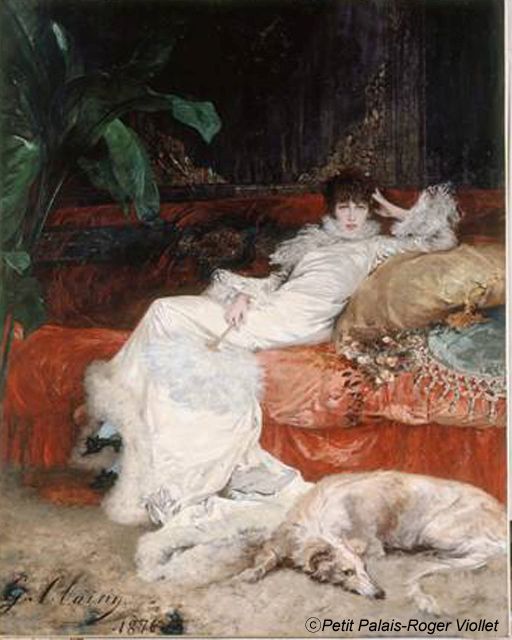 From 24.11.2010 to 28.02.2011
National Gallery - Central Building
The exhibition "PARIS 1900, Art Nouveau and Modernism – Treasures from the Petit Palais, City of Paris Fine Art Museum" to open its doors at the National Gallery on 22 November 2010, transports us to the French capital of the Belle Époque through works of French art from the collections of the Petit Palais, with their unique evocation of the bourgeois and lower-class Paris of the 1880-1914 period.
This reciprocal exhibition, organised in return for the exhibition "Mount Athos and the Byzantine Empire – Treasures from the Holy Mountain", which went on display at the Petit Palais in 2009, comprises 11 thematic sections featuring a total of some 200 exhibits.
The first section is dedicated to the Exposition Universelle, the World Fair held in Paris in 1900, for which Petit Palais itself was erected.
The second section comprises paintings from the Greek participation to the Exposition Universelle of 1900 from the National Gallery collections and private collections.
The next section is Everyday Paris, featuring aspects of urban life and the harsh reality of lower-class people.
A small tribute to the building and history of the Petit Palais is installed in the museum's mezzanine level.
Another section focuses on Paris landscape, while the Decorative arts are represented by vases and furniture by Art Nouveau artists, accompanied by lithographs-studies for the decoration of Modern interiors.
Iconic figures of Parisian women are depicted in imposing portraits by academic as well as avant-garde artists, including the monumental portrait of Sarah Bernhardt by Georges Clairin.
Also on display is exquisite jewellery made by the master craftsmen of renowned houses, such as Lalique or Cartier.
The last exhibition section is Modernism, featuring a contribution of four works on loan by the City of Paris Museum of Modern Art, as well as prints and posters from the National Gallery collections.
The exhibition is accompanied by a 328-page bilingual catalogue (Greek/French), with essays by Gilles Chazal (Director, Petit Palais), Marina Lambraki-Plaka (Director, National Gallery), Maria Katsanaki (Curator, National Gallery), Charles Villeneuve de Janti, Isabelle Collet, Maryline Assante di Panzillo, Dominique Morel (Curators of the French Patrimony), Martine Chazal (Historian of jewellery), Marilena Kassimati (Curator, National Gallery) and Maria Gyparaki.
Exhibition supervision: Marina Lambraki-Plaka, Art History Professor, Director, National Gallery
National Gallery exhibition curated by Dr Maria Katsanaki, Curator, National Gallery
Exhibition design: Loretta Gaiti
Sponsors: National Bank of Greece, Alexander S. Onassis Foundation, Aegean Airlines
Communication Sponsors: ERT, MEGA, SKAI, Hellenic Parliament Television, Flash 96, TA NEA