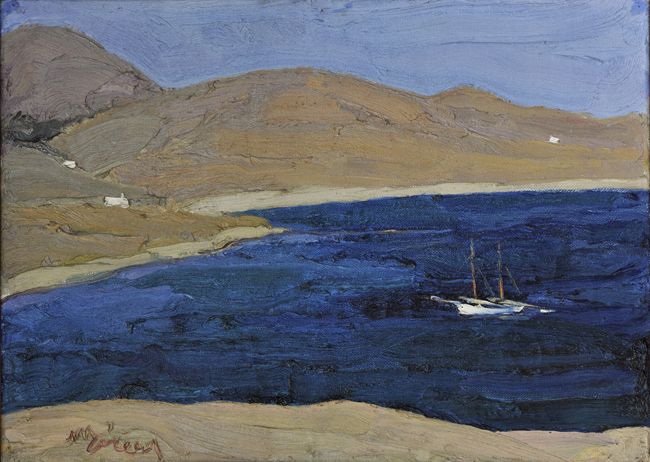 From 03.07.2015 to 16.08.2015
Regional museums and cultural centers
Cycladic Art Gallery, Ermoupolis, Syros, 03/07/2015 – 16/08/2015
The National Gallery- Museum Alexandros Soutsos in cooperation with the Municipality of Syros, presents the exhibition entitled "Traveling on the boat of Greek painting" in Ermoupolis, in the Cyclades Art Gallery. The theme of the exhibition is in harmony with the Aegean islands' character and the atmosphere of summer holidays. Visitors will have the opportunity to experience one of the most characteristic aspects of modern Greek art: the seascape, a topic that flourished from the last quarter of the 19th century and is directly connected with the life of our people, its history, its experiences.
The exhibition is divided into three sections based on chronological and morphological criteria: the first includes works of our great seascape painters : Konstantinos Volanakis, Vasileios Chatzis and Ioannis Altamouras, in which emerge the first effects of Impressionism.
In the second section, there are paintings by artists that attempt and succeed in creating the first authentic Greek Plein Air Painting, influenced by the Post-Impressionism movements. Their main concern is to give color to the particular quality of the Greek light. Typical representatives are: Konstantinos Maleas, Nikolaos Lytras, Konstantinos Parthenis, Michalis Economou etc.
The third section is represented by paintings of older and younger artists belonging to various trends. Representatives or descendants of the Generation of the 30's, like Nick Chadjikyriakos Gikas, Gerasimos Steris and Agenor Asteriadis, co-located in this section with artists like Thanos Tsigos, Theodoros Stamos, Paris Prekas, Giannis Gaitis, Panagiotis Tetsis, Costas Tsoklis, who gave their personal touch to the modern Greek landscape.
Exhibition curator:
Lamprini Karakourti-Orfanopoulos
Curator of the National Gallery
Exhibition sponsor:
Foundation Antonis E. Komninos