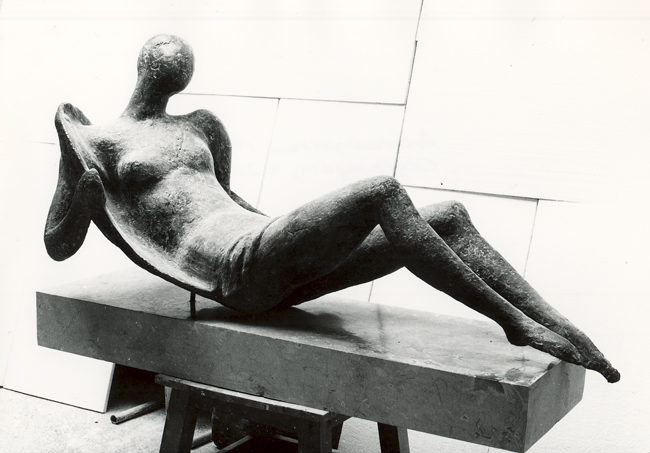 From 03.02.1992 to 05.04.1992
National Gallery - Central Building
This exhibition featured representative works from over 60 years of uninterrupted activity by the artist, starting from his youth in Paris, through works made during the War and the German Occupation in Athens and the early post-war years in Alexandria, Egypt, to a 30-year period in Greece, where he returned as a professor and then director of the Athens School of Fine Arts.
Yannis Pappas, member of the Academy of Athens and corresponding member of the French Academy, is perhaps best known for his works installed in public sites, such as his statues of Eleftherios Venizelos on Vassilissis Sophias Avenue and in the courtyard of the House of the Hellenic Parliament, of Korais on Chios, of Baron Tositsas at Metsovo, of Papanastassiou at the University of Thessaloniki, and the monument to the Merchant Marine on Syros. The National Gallery exhibition, therefore, was of special interest, since most of the works went on public display for the first time.
Beyond their intrinsic artistic value, what characterizes Yannis Pappas's works is timelessness. in spite of the changing trends and movements in the evolution of contemporary art, the artist remained committed to a search through his personal experiences and his broader environment, with which he always sought to maintain contact. Thus, half a century later, his works have not only not dated, but on the contrary have gained in strength with time.
In his 60-year-long career, Yannis Pappas consistently functioned as a sensitive receiver of the situations which he portrayed. His early works were marked by the feel and atmosphere of Paris in the interwar years. In later works, the artist was inspired by his 15-year stay in Egypt. The works made after he had returned home to Greece are undisputed examples of genuine Greek sculpture.
The National Gallery exhibition featured works in plaster, wax, wood, brass and marble. In an innovative attempt to illustrate the making of a sculpture, works at various stages of construction also went on display, including models for statues and drawings that formed part of the preliminary study for a work. In the attic of the exhibition venue, the ambiance of a studio was created so that the visitor may come even closer to the artist.
The design for the display of Yannis Pappas's works and the layout of the exhibition venue was made by his associates, Pantelis Nikolakopoulos, architect, and Lily Pezanou, architect – theatre designer.
Exhibition curator: Olga Mentzafou, Curator at the National Gallery of Greece