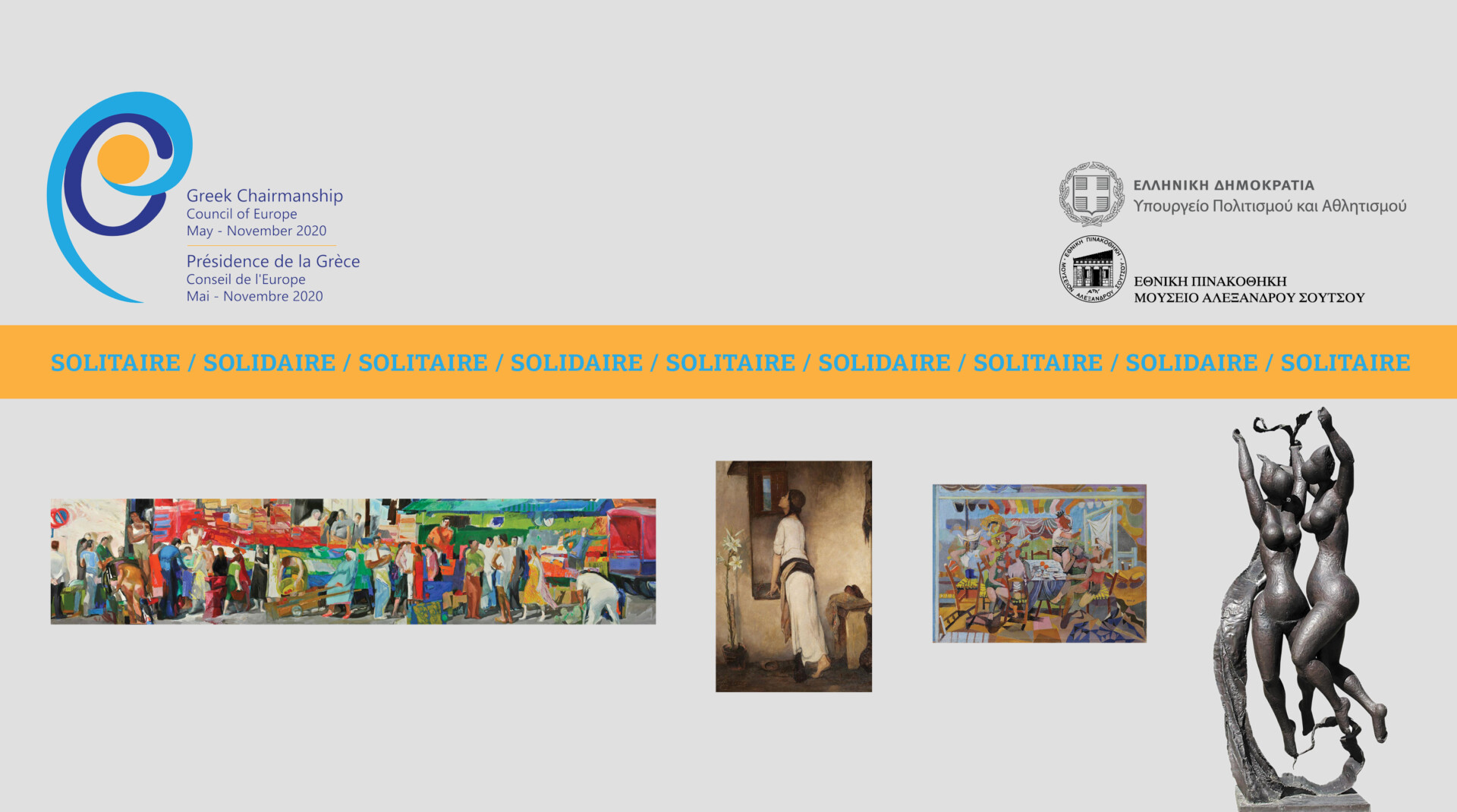 Greek Presidency of the Council of Europe
Curatorial team of the National Gallery-Alexandros Soutsos Museum
Solitaire / Solidaire, the digital presentation of the National Gallery-Alexandros Soutsos Museum included among the projects of the Network of Contemporary Culture Museums in the context of the Greek Presidency of the Council of Europe (15/5- 18/11/2020), was designed and completed by the curatorial team of the museum during the recent social isolation measures, imposed globally by the unprecedented health crisis.
With the museums closed, away from the artworks and their public, the curators of the National Gallery turned to the museum`s digital record, its photographic and bibliographic databases, but also to their personal research notes and studies, in order to approach the collections from a fresh viewpoint, focused on the timely theme of social cohesion. Coming together with quickness and enthusiasm, they proposed original interpretations of well-known and less-known artworks from all sections of the collections, as a respond to an urgent internal call for participation and contribution, but also to the need to maintain their ties with their work subject and the friends of the museum.
Nearly forty works -the number as a small, symbolic reminder of the quarantine- have been selected and commented on in a condensed, comprehensible way which highlights the importance of collective action, solidarity, mutual obligations and equal rights, not only as means to deal with emergencies, but also asconditionsform achieving universal prosperity.
Solitary, yet solidary, making use of some excellent digital museum applications, the National Gallery via its project Solitaire / Solidaire sends the message that art, as a guardian of great human values, contributes decisively to their protection and cultivation.
SUPERVISION: Marina Lambraki-Plaka. CONCEPT-INTRODUCTORY TEXT: Artemis Zervou. COORDINATION: Efi Agathonikou, Elpiniki Meintani, Artemis Zervou. SELECTIONS-TEXTS (alphabetically): Efi Agathonikou (Western European Painting). Tonia Giannoudaki (Modern Greek Sculpture). Zina Kaloudi (Modern Greek Painting: early 20th cent.-1940). Maria Katsanaki (Modern Greek Painting: 19th cent.). Elpiniki Meintani (Photographic Archive). Katerina Tavantzi (Prints). Lina Tsikouta (Modern Greek Painting: 1945-present). Artemis Zervou (Christos Kapralos Collection). TRANSLATION: Artemis Zervou. PHOTOS-IMAGE PROCESSING: Stavros Psiroukis, Thalia Kymbari.